Create your own email address
A custom email address ensures that you're not anonymous online.
An address in the form accountname@yourwebsite.it is more than just distinctive and professional, both in your personal and business life, it is also a business card announcing your individuality.
Register and secure your domain name to create custom email accounts.

Your business card for the Internet
Domain with email
5 custom email accounts with 1GB storage
IMAP service: read your emails on multiple devices
Antivirus and antispam
Webmail
starting from€ 0.99 + VAT/1st year*
for renewal from € 15.49 + VAT
Enhance your email with additional services
Create your own custom email addresses and enhance them with our additional services. You can create as many accounts as you like with the unlimited email service, and increase your storage space to suit your needs with GigaMail. Make sure your webmail is professional with the Business Mail service.
Unlimited Email Accounts
Don't just settle for 5!
Create an unlimited number of custom email accounts
€ 14.99 + VAT/year
GigaMail
Get 5GB of extra space for your email accounts with each GigaMail. Distribute the extra storage as you like for each account, up to a maximum of 50GB.
€ 5.50 + VAT/year each
Business Mail
Enhance your webmail and turn it into a professional tool. Chat, sync and share address books and calendars, mark yourself as free/busy and much more.
€ 5.00 + VAT/year
Find out more about services that include customized professional email
Custom email accounts are the best way of making sure you are unique and instantly recognizable when you communicate online.
Especially if you want to build a website or online shop with our hosting plans or one of our complete dedicated solutions.
That's why email is always included in our services. Find out about all the services that include custom email accounts and choose the one that's right for you.
Build your website yourself
SuperSite Easy and
Professional
Build your website even if you're not an expert. Choose the name, choose the look, add the content and you're online.
Custom email accounts included.
Free trial available
A website or e-commerce platform with the most popular CMS
WordPress and
WooCommerce
WordPress and WooCommerce pre-installed to create spectacular websites or online shops of all sizes.
Custom email accounts included.
from€ 19.90 + VAT/1st year*
Hosting plans for experienced site builders
Linux and Windows
Hosting
Hosting plans and plenty of additional services for those who want to manage every aspect of their web space.
Custom email accounts included.
from€ 11.90 + VAT/1st year*
* Promotions are subject to restrictions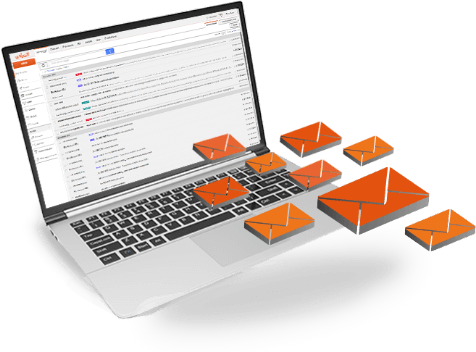 Webmail always included, to manage your emails wherever you are
Aruba's webmail is an essential tool for accessing your email accounts whenever you want, on the device of your choice.
With a host of features designed to suit any customer, it's intuitive, easy to use and suitable for everyone.
Manage email accounts and folders
Manage calendars and address books
Quick and advanced search feature
Set up message rules
We protect your data, because the security of your website is one of our top priorities
You maintain complete control over your data, safeguarded in certified, highly-resilient infrastructures: our European data centers.
We are GDPR compliant, respecting privacy and the processing of personal details. We do not use our Customer's data for advertising purposes.
Your website is protected and secure, thanks to redundant hardware, asynchronous data replication and continuous system patching.
Your service includes automatic security checks and regular updates of the antivirus software.
Do you need help?
Specialist support
We provide a 24/7 phone and ticket support service.
Company
Products and services
Payment
Pursuant to EU Directive 2013/11 and Regulation EU 524/2013, if you are a consumer residing in Europe, you can use the ODR platform to submit a request to resolve disputes relating to contractual obligations out of court.
Info
© 2023 Aruba S.p.A. – via San Clemente, 53 – 24036 Ponte San Pietro (BG)
P.IVA 01573850516 – C.F. 04552920482 – C.S. € 4.000.000,00 i.v. – Numero REA: BG – 434483 – All rights reserved